Business Areas
Comfort that is always a step ahead.
Earth Corporation has been helping support people in their daily lives for over 100 years since starting out in the year 1892.
These days, mentalities toward environmental cleanliness, safety and reliability, and other such concepts have a significant impact on
the way people live their lives. Increasingly, people are expressing their desire to live fuller, more enjoyable lives.
At Earth Corporation, we always make ourselves a part of the lifestyle of the times, and offer comfort that is a step ahead.
This attitude toward the creation of products is something we hold dear.
Insecticides and Repellents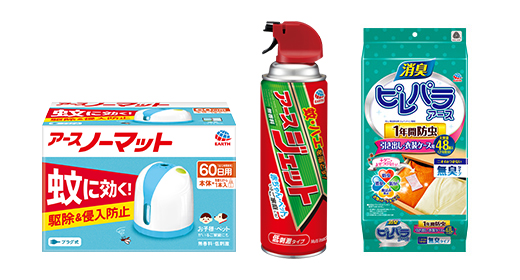 As a top producer of household insecticides, we cater to our customers' needs with a full lineup of products including longtime bestsellers "Gokiburi Hoi-Hoi" and "Earth No-mat." Our tireless research continues to turn out product offerings that meet the changing needs that arise, including the insect repellent "Saratekuto" which has been increasingly sought-after in recent years, and anti-cockroach product "Nachurasu" which uses no chemical insecticide ingredients.
Bath Products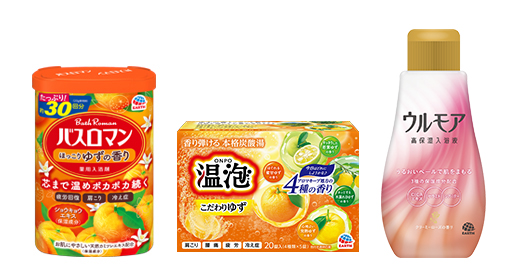 Our extensive lineup of various bath products offers enjoyment and comfort for bath time while also relaxing both the body and mind. These include longtime favorite "Bath Roman", carbonated bubble bath "Onpo", "Yumeguri" which offers a taste of the feeling of hot springs throughout Japan, "Hoshitsu Nyuuyokueki Urumoa" moisturizing bath liquid for dry skin, and "Onso" bath salts that can give bathwater an authentically full and rich sensation.
Oral Care Products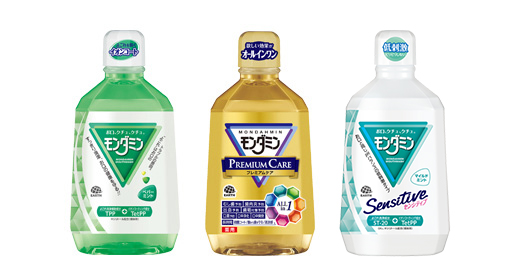 We help keep mouths clean and healthy with products geared toward all age groups and usage types. The "Mondahmin" series fights cavities, gingivitis, and bad breath with an extensive variety of products for customers to choose from catered to their needs and preferences. We also offer products geared specifically to all age brackets, such as "Mondahmin Kids" for children.
Deodorizers and Air Fresheners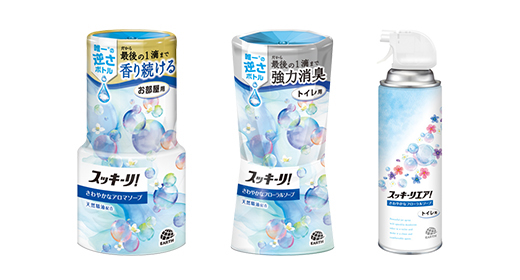 Our products come in a wide range of uses and scents. They not only stamp out odors but also cater to the lifestyles of those who want to enjoy fragrant scents throughout their homes. These include the "Sukki-ri!" series made for long-lasting effects and pleasing design, and "Sebon Tank ni Okudake Toilet Cleaner" products which combine design with functionality.
Cleaning Products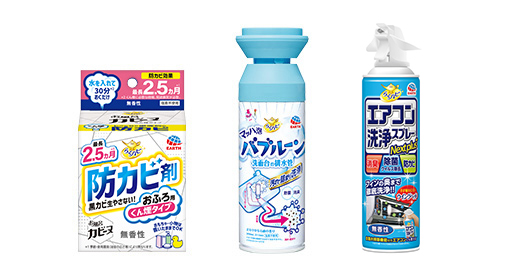 Each of our cleaning products keeps your home meticulously clean without missing a spot. We help make household life cleaner and more comfortable with an extensive array of products that includes "Raku Hapi Ofuro Kabi-nu" which eliminates black mold in the bath and shower, and "Raku Hapi Air Conditioner Cleaning Spray Nextplus" which gives your air conditioner a full cleansing with just a simple spray.
Hygiene Products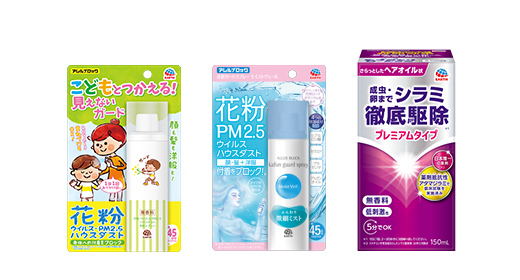 Our hygiene products include the "Aller-block" series designed for easy, versatile use by modern people who suffer from harmful substances such as pollen, viruses, and house dust, as well as anti-lice products such as "Earth lice removing shampoo α" for removal of lice, and "Earth Shirami & Dani Taiji Spray (Lice and Mite Killing Spray)" for lice and ticks.
Gardening Products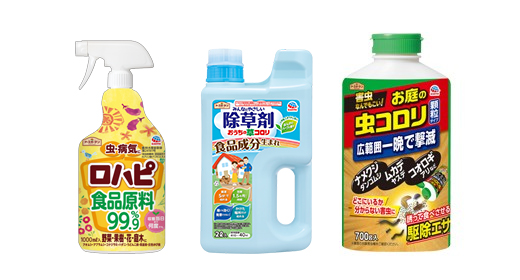 Our "Garden Corner" helps provide solutions that give every gardening enthusiast what they want. Utilizing technology accumulated from research on insecticides and other products, the Earth Garden Series develops and improves on products with the idea of making them safe and dependable, easy to understand, and easy to use. "Earth Garden Lohapi" insecticide for vegetables, fruits, and flowers, and environmentally-friendly herbicide "O-uchi no Kusa Korori" are examples of the distinctive products that we offer.
Other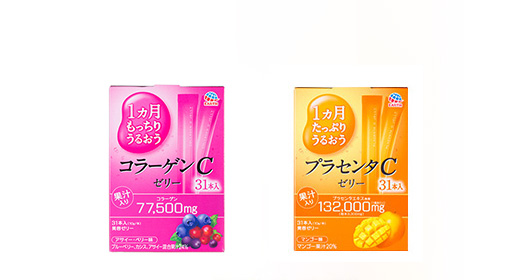 Our beauty supplement products including "Placenta C Jelly" beauty care jelly and "Placenta C" beauty drink can be consumed just like desserts.
We also are currently developing new value-added consumer and industrial products through joint research and development efforts with various partner companies, putting to use the technology Earth Corporation has accumulated over the years.