Corporate Philosophy
Earth Group Corporate Philosophy
生命と暮らしに寄り添い、地球との共生を実現する。
We act to live in harmony with the Earth.
The "Earth" in our company name expresses our predecessors' hope to provide useful products to people all around the globe.
For more than one century since our foundation in 1892, we have aspired to realize a healthy and comfortable life for people and have steadily developed along with society by continuously delivering high-quality products.
We will continue to serve the lives of more people across the world so that we can contribute to a more fulfilling and comfortable life.
Earth Policy
Represents the behavior and action that are essential for achieving our management philosophy.
お客様目線による市場創造
Creating a Market with customers
熱意・創意・誠意
Passion・Innovation・Integrity
すぐやる・必ずやる・最後までやる
Momentum・Achievement
Earth Value
The values shared by all employees engaged in our business operations.
コミュニケーション
Open communication
Corporate Identity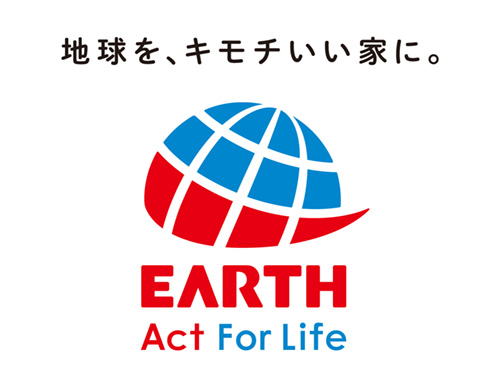 Based on our company name "Earth Corporation," our corporate logo depicts the earth, representing a safe and comfortable life in blue, while the red splash expresses the corporate spirit of the Earth group aiming to act with passion, sincerity and dynamism.

To portray the attitude of the Earth group to make continuous challenges toward being the best, the letter A in "EARTH" has been designed to resemble an upward arrow.

"Act For Life" is a short expression representing our management philosophy. It expresses the Earth group's commitment to customers, to act by contributing to a safe and comfortable life for all and to serve the life of people, by providing our products and services.

"Making the earth a pleasant home" is a plain and friendly representation of "Act For Life" as our commitment to customers, where "pleasant" signifies safety and comfort.