Activities that contribute to resolving social issues
Earth Corporation strives to increase the value and recognition of the company and its products through a variety of educational activities.
We also strive to resolve social issues facing specific communities (municipalities) in business fields, to contribute to local communities.
Social contribution activity policies
Earth Corporation strives to increase the value and recognition of the company and its products through a variety of educational activities.
We also strive to resolve social issues facing specific communities (municipalities) in business fields, to contribute to local communities.
Based on Earth Corporation's management philosophy that "We act to live in harmony with the Earth," we propose improvements to the quality of life for people around the world through our business, and actively promote contribution activities to achieve a healthy and rich society.
The Earth Group contributes to society through activities focusing mainly on our specialty fields of "lifestyles" and "hygiene."
We support activities including sports, culture, and social welfare, to promote richer lifestyles.
Each and every employee will promote the creation of environments that encourage social contribution activities.
Educational activities
Education CSR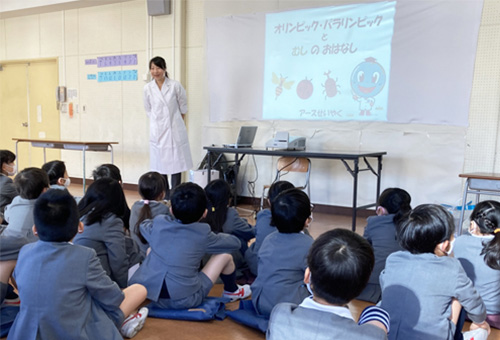 Amid an emphasis on CSR activities by companies and organizations, there is an increasing interest in CSR related to education. "Education CSR" refers to participation in educational activities by companies as a member of society, including dispatching instructors to educational venues, holding events, developing teaching materials, providing samples, offering tours of facilities, and conducting workplace experience programs. Earth Corporation naturally undertakes initiatives in a variety of fields as part of social contribution activities, but we also believe that through education CSR, it is possible to help children and regional residents protect themselves from insect-borne diseases and prevent the spread of infections by acquiring correct knowledge regarding disease-carrying insects. We are also aware that the more than 100 types of insects raised by Earth Corporation Research Laboratories can be put to use in research and education programs at research institutions and high schools, to contribute to scientific development and HR training.
Earth Corporation provides cultivated insects to universities and high schools as part of education CSR. In 2021, we provided many cultivated insects–mainly disease-carrying insects such as cockroaches, German cockroaches, houseflies, and Asian tiger mosquitoes–to a total of 55 facilities, including 16 universities, 36 senior high schools, and three research institutions. These insects were used in various applications such as research and testing, classes, exhibits, and photographs. In 2021, we held tours of insect cultivation facilities online due to the coronavirus pandemic, to help people gain a deeper knowledge of mosquitoes, cockroaches, and other disease-carrying insects. We also held a total of five lecture meetings, including events in Ako, Nishinomiya, and Toyohashi cities, and conducted a total of 15 on-site classes at elementary schools, junior high schools, and senior high schools.
Accepting social studies tours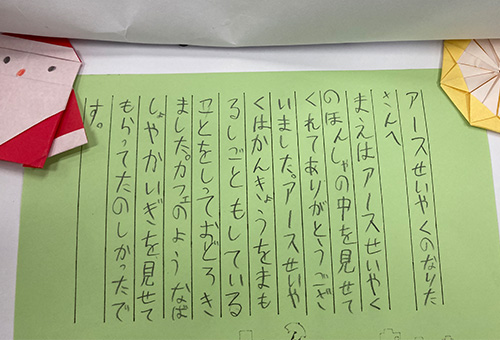 In recent years, Earth Corporation's head office has had increasing opportunities to welcome visits by elementary, junior high, and senior high school students from near and far.
We offer a variety of programs based on requests; for example, we invite visitors to office floors to conduct on-the-spot interviews with employees, connect visitors with the plant in Hyogo Prefecture via the Internet for virtual tours, and hold CSR courses and SDG study meetings.
Interacting with students making efforts to learn as they intently take notes provides learning opportunities for the employees as well.
Oral care education activities at kindergartens and daycares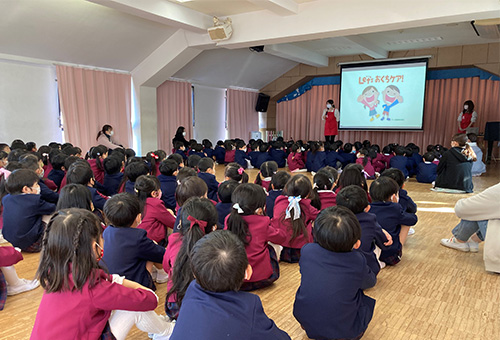 Earth Corporation conducts oral care education activities at kindergartens and daycares across Japan using its own "Mondahmin Kid's" product, to promote awareness of oral health among small children and to form the habit of using mouthwash. Through these events, we teach the participating children about oral care through quizzes, and also create Earth fans by offering experiences using mouthwash and in Mondahmin Kid's exercises. Through these activities, we promote education in preventative awareness and habits from early childhood, and contribute to reducing the rate of cavities in Japan while at the same time enhancing and expanding activities aimed at protecting oral health.
Collaborations with local communities
Comprehensive collaboration agreements with municipalities
Earth Corporation promotes collaborations with municipalities to achieve SDG targets for 2030. On March 24, 2020, we completed Japan's first comprehensive collaboration agreement with Chiyoda Ward related to "healthy lifestyles through community safety and security." As a total care company for infectious diseases, we complete collaborative agreements mainly in the fields outlined below, to contribute to resolving a wide range of issues in the community, including health and hygiene, social welfare, the environment, disaster prevention, and community building, by providing municipalities with our original insect-borne infection countermeasures, along with the latest technologies and expertise in oral care, sterilization, and deodorization.
Earth Corporation's main collaboration fields (social issues)
1. Areas related to safe, secure, healthy lifestyles (health/hygiene and the environment)
2. Areas related to the promotion of education, culture, and sports (education and sports)
3. Areas related to support for people affected by natural disasters (disaster prevention)
Moving forward, we will complete similar agreements with prefectures, government ordinance-designated cities, and the 23 wards of Tokyo, working to resolve social issues and contribute to the continuous and healthy development of local residents and communities.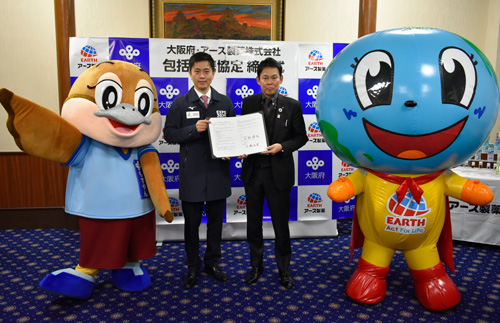 Signing agreement with Osaka Prefecture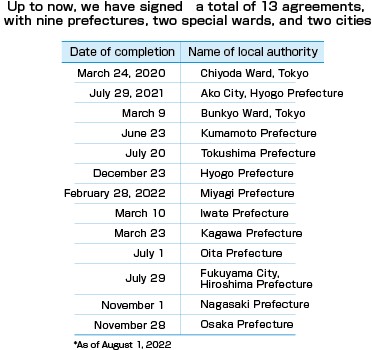 *Pinch out to zoom in.
Signing agreement with Tokushima Prefecture in afforestation project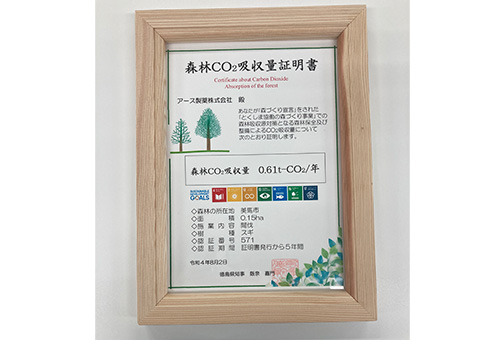 In 2019, we completed an agreement with Tokushima Prefecture regarding an afforestation project (the Tokushima Forest-Building Project). This agreement encompasses initiatives that combine the public and private sectors, through collaborations with Tokushima Prefecture, the Otsuka Group, and companies in Tokushima Prefecture. The activities have three basic goals: (1) to achieve unified management of public and privately owned forests; (2) to promote forest conservation and greening throughout the Prefecture as a whole; and (3) to support forestry organizations and double production of lumber in the Prefecture. These activities are also expected to tie into other initiatives such as disaster prevention, global warming countermeasures, preventing water pollution, and protecting wildlife organisms. We will continue to actively participate in these activities so that environmental protection initiatives combining the strengths of the public and private sectors can be sustained.
Disaster prevention through public/private sector collaborations in Ako City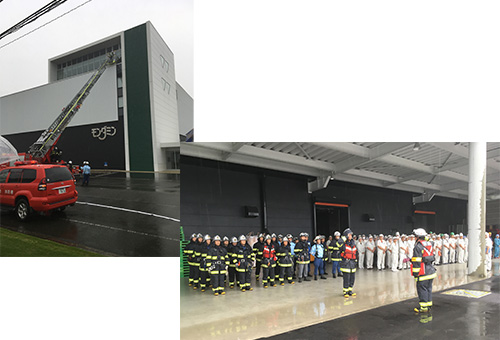 Joint fire prevention drills
Earth Corporation collaborates with Ako City Hall in relation to disaster prevention measures. Ako City Hall has registered two of our company buses so that they can be used to distribute emergency goods and evacuate citizens in the event of an emergency, as part of the Ako City flood control plan. With the Ako City Fire Department, (1) we regularly conduct joint disaster prevention training, including collaborative in-house fire prevention and disaster prevention drills. (2) Through exhibits at the Ako City firefighting and disaster prevention Festival, every year, in addition to fire prevention and disaster prevention, we introduce other risks as well, using corporate activities to draw the attention of citizens to the risks presented by various organisms. We believe that continually building close relationships with the government and the private sector, including other companies, will lead to greater improvement in disaster prevention awareness.
Collaborations with "Try-Yaru Week"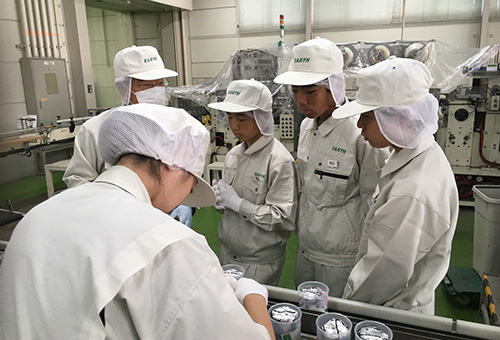 The goal of "Try-Yaru Week" is to learn about the local community and cultivate "the strength to live" through workplace experiences and other programs, as part of education led by Hyogo Prefecture. Every year for many years, Earth Corporation has cooperated with these activities by accepting second year junior high school students from schools in Ako City. For a period of five days, the students can experience real work environments, for example by learning what it is like to work in the production division of the plant, or manage research and quality assurance in a range of processes up to the product's shipment. Through these workplace experiences, the junior high school students gain an understanding of how Earth's products are made to be safe for use, while at the same time feeling the excitement of seeing products that they helped to make displayed on store shelves.
Support for sports and culture
Sports support: "Mondahmin Cup"
The Mondahmin Cup is a professional women's golf tournament that has been held since 2012. In 2022, under the slogan "sharing the excitement," employees, volunteers, and other related parties came together as one to bring the excitement of this tournament to a great many people. Earth Corporation will continue to host tournaments that "live on in people's memories, in people's hearts, and in history," making it even better than before, so that it contributes to society and to the development of golf and the sports world as a whole.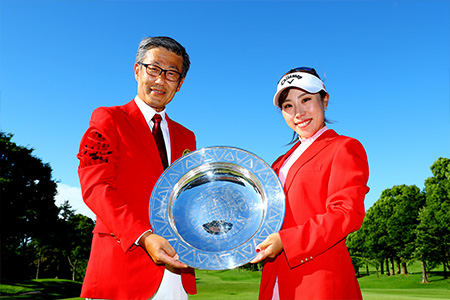 The tournament chairman and the tournament winner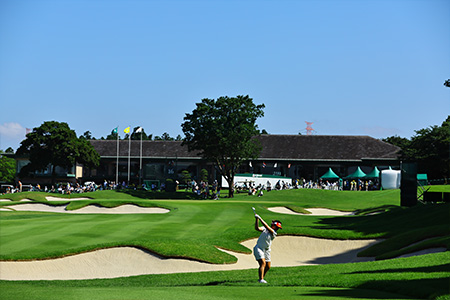 Camellia Hills Country Club (Sodegaura City, Chiba Prefecture)
Sponsorship contract with INAC Kobe Leonessa professional women's soccer team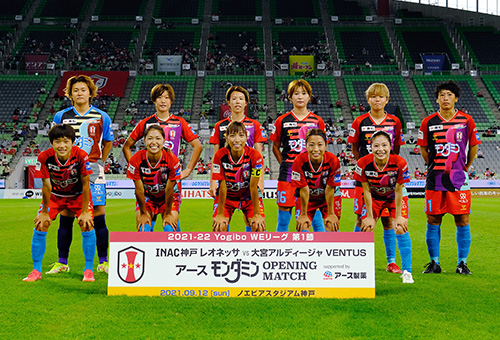 In February 2021, Earth Corporation signed a sponsorship agreement to support INAC Kobe Leonessa, which continues to take on new challenges in the world of women's soccer. INAC Kobe Leonessa was established as a comprehensive sports club in April 2001 to foster key members of the sports community in its hometown of Kobe City and Hyogo Prefecture and to undertake international activities as well. In May 2022, it was the first champion in Japan's new "Women's Empowerment Professional Football League (WE League)." Based on the concept of "from Kobe to the World," it fosters athletes who can compete in the global arena, and strives for the further development of women's soccer. As part of its social contribution activities, Earth undertakes collaborative projects and promotional activities with team members to foster strong youth and promote healthy competition.
Collaborations with local sports organizations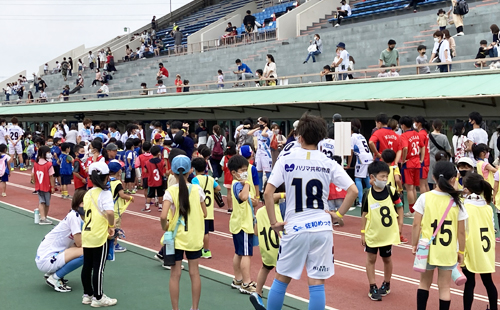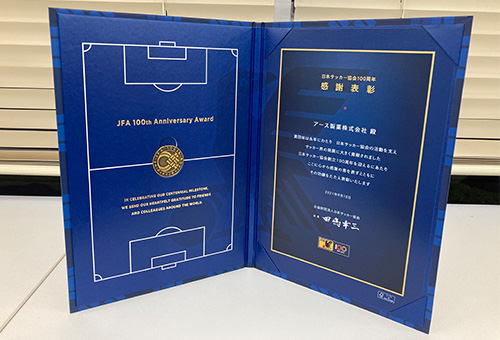 As a company with a plant and research base in Ako City, Hyogo Prefecture, Earth Corporation strives to contribute to the development of local sports. Organizations that we support as a sponsor include: INAC Kobe Leonessa (Kobe City), a professional women's soccer team in the WE League; AS Harima ALBION (Himeji City), a women's soccer team playing in Japan's Nadeshiko League Division 1; and the Kansai University of Social Welfare women's volleyball team (Ako City), a women's team affiliated with the Kansai University Volleyball Federation. Each of these organizations also supports sports development and proliferation activities targeting preschool, elementary, junior high school, and high school students, offering full cooperation in sports lessons and other events. They also participate in Earth's unique projects aimed at educating children about oral care and insect care (insect countermeasures), contributing to the health of everyone in the region. In recognition of these continued activities, in 2021, we received the "JFA 100th Anniversary Appreciation Award" from the Japan Football Association."
Special support for Shiki Theatre Company family musicals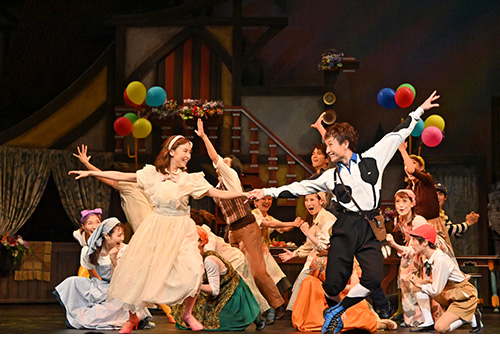 Earth Corporation is a special sponsor for the Shiki Theatre Company family musical "The Cat Who Wished to Be a Man," and for the "Kokoro no Gekijo" project conducted by the Shiki Theatre Company in cooperation with the Butaigeijutsu Center. "The Cat Who Wished to Be a Man" is a musical production presented at theaters nationwide from July 2022 to March 2023. "Kokoro no Gekijo" (Theatre of the Heart) is a project that invites children from across Japan to theaters for free, to offer important lessons through stage performances, such as the importance of life, a kind heart, and the joy of believing one another. Every year, 560,000 grade six elementary school children were invited from about 180 cities nationwide, but schedules at theaters were preempted in 2022 due to the coronavirus pandemic. Instead, "Kokoro no Gekijo" videos of "The Cat Who Wished to Be a Man" were streamed for free to the schools where students had planned to visit the theaters. Earth will continue to actively contribute to the healthy growth of children in the future.
Otsuka Museum of Art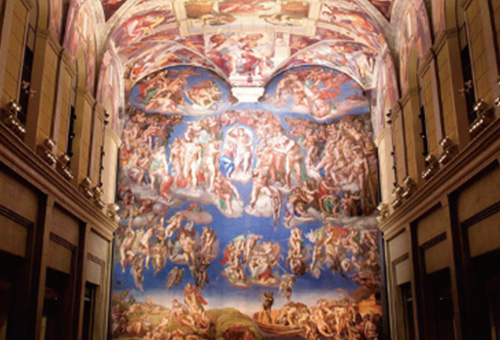 As a member of the Otsuka Group, we participate in cultural activities at the Otsuka Museum of Art, which was established in Naruto City, Tokushima Prefecture.
Collaborations with NPOs/NGOs
Used stamp collection campaign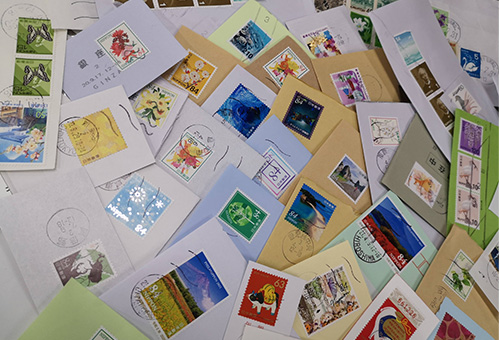 Earth Corporation collects used stamps from letters and parcels delivered every day, to support the activities of SHARE (Services for Health in Asian African Regions) as part of Sustainable Development Goal No. 3, "Ensuring healthy lives and promoting well-being for all at all ages." The stamps collected are sold through SHARE, and the funds raised are allocated to expenses for healthcare activities in Asia based on a long-term vision, with an emphasis on primary health care.
SHARE (Services for Health in Asian African Regions) (external site)
Contribution vending machines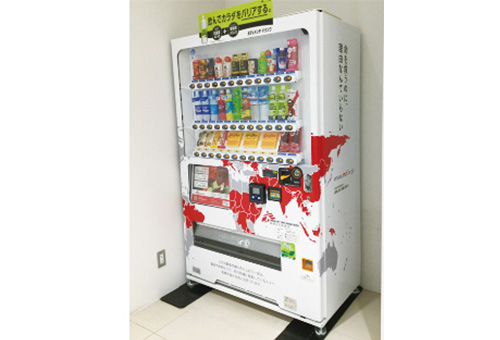 Contributing to society through day-to-day actions
In April 2020, we introduced "contribution vending machines": Two of the vending machines installed at our office enable employees to contribute to a designated organization; for example, to support human rights, children, animals, or the environment. Among these organizations, Earth Corporation supports the basic principles of "Doctors without Borders," donating three yen from the sales of each product. Donations are put to use in a variety of activities in regions affected by war, including emergency surgical treatment, vaccinations against transmissible diseases, psychological care, and nutritional supplements and treatments.
Ecocap Movement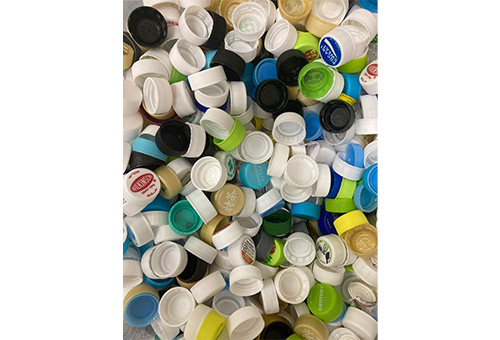 Earth Corporation supports the Ecocap Movement, which promotes recycling and CO2 reductions, and uses profits to support healthcare in developing countries, as well as contributing to the employment of seniors and persons with disabilities. Employees at various workplaces are encouraged to separate waste from used plastic bottles, and to gather the plastic bottle caps and send them to a recovery center.
Up to now, a total of about 1,050kg of Ecocaps (about 453,000 caps) have been collected, which is equivalent to a reduction of about 3,300kg in CO2 emissions.
We will continue to actively participate in SDG activities through the Ecocap Movement as a member of the international society, with a view toward 2030.
Support for children in developing nations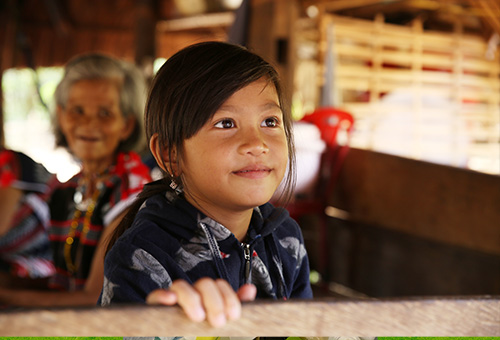 Earth Corporation supports the activities of the Foundation for International Development/Relief (FIDR), which provides assistance rooted in local communities in a variety of fields. The goal of FIDR is to enable people in developing countries such as Vietnam, Cambodia, and Nepal to escape from poverty, and allow these regions to develop independently. The activity report delivered each year is shared among all employees, and we are also encouraging employees to look at support activities from a first-person perspective.
Foundation for International Development/Relief (FIDR) (external site)
Child sponsorship: WELCO Lab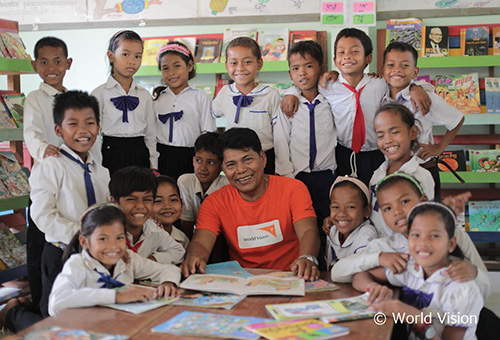 Earth Corporation provides support for children in Southeast Asia, a region where the company is expanding its business activities, through the child sponsorship program of the international NGO World Vision Japan. This program involves improving water supply hygiene, healthcare, and nutrition, expanding educational opportunities, and enhancing people's livelihoods, so that people living in the supported regions can put in place the environment needed for children to grow up in good health. Since 2016, Earth Corporation has been supporting regions where children live in Myanmar, Cambodia, and Vietnam.
Support for areas affected by disasters
Collaborations with Japan Platform in the event of disasters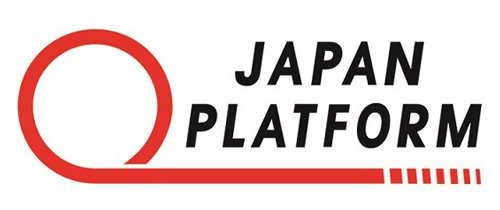 Since 2019, Earth Corporation has been collaborating with Japan Platform (JPF), an NGO engaged in providing emergency humanitarian aid in response to conflict and disaster situations. We have been contributing to building support structures for affected areas.
In 2019, responding to requests received from JPF Member NGOs, NPOs and local government authorities, we provided emergency support to areas affected by Typhoon No. 15 (Typhoon Faxai) and Typhoon No. 19 (Typhoon Hagibis), and by the torrential rains that affected Kumamoto Prefecture that year, as well as for low-income households affected by the COVID-19 pandemic.
Naha City in Okinawa Prefecture was simultaneously impacted by typhoon damage and the spread of the COVID-19 pandemic. In response, Earth Corporation donated insect control products and oral care products, totaling 8,000 items, to Naha Council on Social Welfare, as emergency support for use by residential facilities for children from impoverished backgrounds, the Naha City Mother and Child Life Support Center, and other social welfare facilities.
Other material support
Support for the health and security of the 62nd Antarctic Research Expedition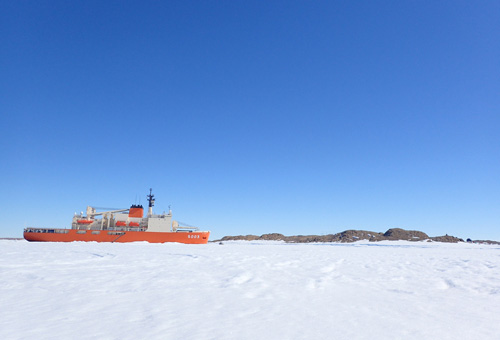 Earth Corporation offered support for the health and security of the 62nd Antarctic Research Expedition, which conducted measurements of Antarctic weather and atmosphere, snow and ice, changes in the Earth's crust, and living organisms by presenting 31 members of the wintering party with a one year supply of Mondahmin Premium Care 1080 mL, natuvo Fabric Care Mist 280mL, and natuvo Fabric Care Mist refill 250mL.
The Antarctic Research Expedition undertakes activities in a harsh environment with limited staff and supplies, so maintaining team members' health is critical. Notably, the team has no dentist, and in the Antarctic, it is difficult to receive full dental treatment, so as a company that leads the mouthwash market with its Mondahmin series, we presented the team with Mondahmin Premium Care 1080 mL, which prevents a variety of dental problems.
The Antarctic has special environmental factors such as low temperature and polar nights, so the team members face various types of stress. We presented team members with natuvo Fabric Care Mist 280mL, a deodorant and fragrance for clothing, sofas, carpets, and other fabrics, so that they would always be surrounded by the scent of natural ingredients and to provide proper care for products that come in contact with their skin, along with natuvo Fabric Care Mist refill 250mL, to minimize waste.
Effective use of excess inventory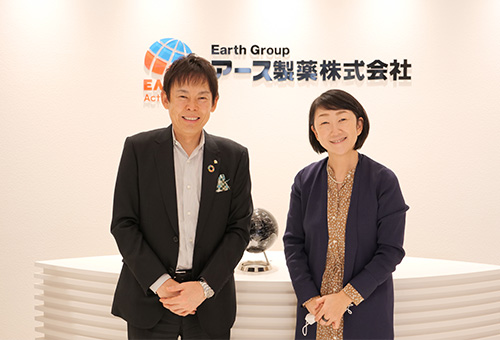 Since 2022, we have been participating in the COSMEBANK PROJECT, which delivers excess inventory products to people who could not obtain daily sundries or cosmetics, for example due to economic reasons. Meyumi Yamada serves as representative director on this project, based on the concept of "Smiles for women and the Earth."
Many companies port this project, the goal of which is to generate a meaningful and sustainable eco-cycle for both companies and diverse consumers. This year, products were delivered to 30,000 households.
Rather than simply throwing away excess inventory that would have no place to go, Earth Corporation supports women striving for independence while actively creating opportunities for product experiences and PR. We will continue to take on social issues such as poverty, health, and social welfare, gender equality, and job satisfaction.