Materiality: Providing products and services that contribute to safe and comfortable living
Environmental awareness
The most important social responsibility in Earth Corporation's production activities is to continue providing safe, secure, high-quality products and services from the customer's perspective. We recognize that reliably fulfilling this social responsibility is an absolute condition for maintaining and improving our corporate value, and represents the foundations for forming this corporate value.
Basic approach
Based on our corporate philosophy, we in the Earth Group strive to provide customers with safe, secure products and services throughout the entire value chain, from product development and material procurement to production, distribution, sales, and communications with customers.
1. We will create new value by listening carefully to what we can learn from customers, and by providing safe, secure products and services.
2. We will build a brand that is trusted by the customers, by pursuing quality up to the moment that the products are consumed.
3. We will monitor information about quality in each country and region and strive to improve the quality of safe, secure products, based on Earth Corporation's original "Quality Management System" and in strict compliance with laws and regulations.
The Earth Group will undertake the following initiatives to provide products and services that contribute to safe and comfortable living.
We will increase the rate of regular quality audits conducted at in-house and outsourced plants, to eliminate serious quality accidents that would bring harm to customer trust and satisfaction.
We will comply with related laws and regulations, and increase the rate of annual training plans to eliminate serious accidents that would result in violations.
R&D policy
The most important element of production at Earth Corporation is "the customer perspective"
Effective technologies and materials are chosen based on "how they are used," and "for who?"
Discover issues and challenges in everyday life that even the customers themselves do not realize
Bring about changes to customers' lifestyle habits through creative products
Place importance on "safe, secure, easy to use, and easy to understand"
Continue to create products that are useful to society
Quality assurance policy
We will assure the quality of Earth Corporation's products from the customer's perspective, to increase customer satisfaction and maintain trust.
We will create products in compliance with relevant laws and regulations, and provide safe, secure, high-quality products.
Earth Corporation will provide accurate information when inquiries are received from customers and respond sincerely to their requests, based on items stipulated in the Conduct Guidelines related to customer satisfaction.
Customer inquiry policy
1. As a rule, inquiries from customers are handled by the Customer Service Department. When a visit or interview is required, the sales staff in that region may be called on for assistance.
2. We will respond to requests from customers quickly and sincerely.
The Customer Service Department will strive to achieve the following.

(1) It will respond to inquiries from customers quickly and fairly, to increase customer satisfaction.
(2) It will accurately communicate comments from customers within the company, putting this information to use in improving products and incidental services.
(3) It will remain alert to social trends, and provide information to management and related in-house divisions.
(4) It will strive to improve so as to play a role in management strategies, with an awareness that responding to customers is at the core of Earth Corporation's mission.
(5) It will act in a way that allows Earth Corporation to live up to the expectations and trust of society.

3. Responding to complaints in particular takes priority over all other duties.
4. When responding to inquiries, other related divisions will offer full support.
5. When responding to customers, we will strive for objectivity and transparency.
6. We will establish and invest management resources in responding to complaints and other requests.
Structure
Customer service frameworks
The Customer Service Department communicates suggestions from the customers within the company through monthly and annual reports and the "Voice of Customer" intranet site, and encourages the use of a text mining system that enables related divisions to use that information in surveys from their own unique perspectives. It also approaches directly related divisions to propose and execute improvement measures based on suggestions from customers at "Customer Concern Review Meeting*," "Meeting of Concerned Matters," "Voice of Customer Meeting," and other related venues.
At the "Customer Concern Review Meeting" in particular, President Kawabata and other members of the top management team participate so that all participating members recognize this as a venue for decision-making. Through these discussions, rather than seeking out solutions to the issues raised using existing methods and approaches, the meetings become a venue for studying, approving, and executing matters with the customer's perspective as the top priority.
These measures lead to an awareness of the customers' perspective among a broad range of employees based on a single issue, contributing to the learnings that might have been missed by a single division alone, and the "creation of markets from the customers' perspective"—one element of "Earth Policy"—through rapid changes that require judgments by multiple divisions.
* Meetings with the involvement of top management, as recommended by the Association of Consumer Affairs Professionals (ACAP)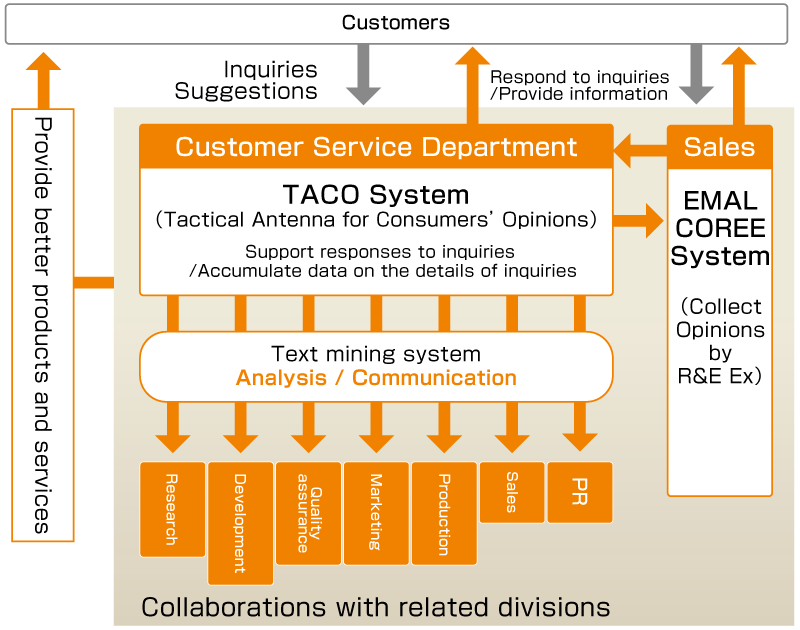 *Pinch out to zoom in.
Initiatives
Earth Corporation conducts a variety of initiatives throughout the entire value chain of product development, material procurement, production, distribution, and sales, to reduce environmental impact and create a recycling-oriented society. These initiatives include preventing global warming, reducing the use of resources, reducing waste materials, and reducing and appropriately managing chemical substances.
Initiatives from the customer perspective
Earth Corporation contributes to preventing infections from insects that carry the threat of diseases through the use of household insecticide products.
Indexes and targets
[KPIs] Rate of regular quality audits:
Maintain 100% (2023, 2026, 2030)
Rate of training activities:
Maintain 100% (2023, 2026, 2030)