Message from the President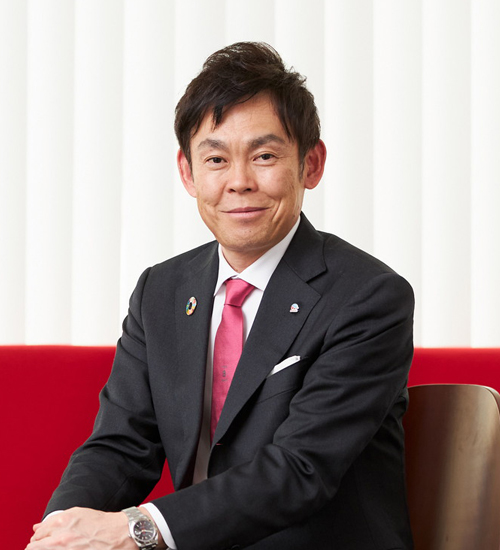 We would like to express our sincere gratitude for your continued support.
We would like to report on the recent situation and future plans of our company.

In the past year, the world has been threatened by a new type of coronavirus infection, and we have witnessed days that are completely different from the past. In the midst of all of this, we have been reminded once again of the importance of our corporate philosophy, "We act to live in harmony with the Earth." and of our social mission as a "total care company for infectious diseases".

Although the environment surrounding our group has changed drastically, including the economic situation, our profit structure has greatly improved as our efforts to reduce returns and properly control expenses have borne fruit. In the area of overseas business development, which is one of our most important strategies, we took an impairment loss on our subsidiary in Vietnam in order to take a strong look at future growth in light of potential risks, but even including this effect, we were able to achieve record profits. I would like to express my heartfelt gratitude to all of our shareholders and investors for their support.

Aiming for further growth in the future, we have formulated a new medium-term business plan starting in 2021. The basic initiatives will not change significantly from the previous medium-term business plan, but we will evolve our initiatives by embodying each strategy. We will continue to reform our profit structure and improve efficiency by redefining the evaluation axes and developing infrastructure for the entire Earth Group. In addition, we aim to build an even mora solid management foundation than we already have by focusing on expanding our earning base in Asia, promoting ESG and open innovation, and creating cost synergies.

In order to make this medium-term business plan a group-wide effort, we solicited ideas for the name of the plan and decided to call it, "Act For SMILE - COMPASS 2023 -". We will use this medium-tem business plan as a compass for our company's growth, with SMILE as the initial letter of our strategic framework and COMPASS as the code of conduct for all employee, as we take on the challenge of achieving our high goals.

Our earning power is steadily growing, thanks in part to the results of our earnings structure reforms, and our financial health has improved to a level that allows us to respond appropriately to changes in external factors such as weather conditions, including funds raised with the cooperation of our shareholders. We will continue to be conscious of the costs of shareholders' equity and aggressively make investments necessary to build a foundation for future growth, including overseas, IT, and human resources. While increasing our corporate value through these efforts, we hope to satisfy our shareholders by providing stable and continuous dividend based on the DOE index.

In the midst of the daily changes in the business environment, we will continue to promote management that is closely aligned with our shareholders and investors, and move forward to the next stage of growth.
President & Representative Director
Katsunori Kawabata