Message from the President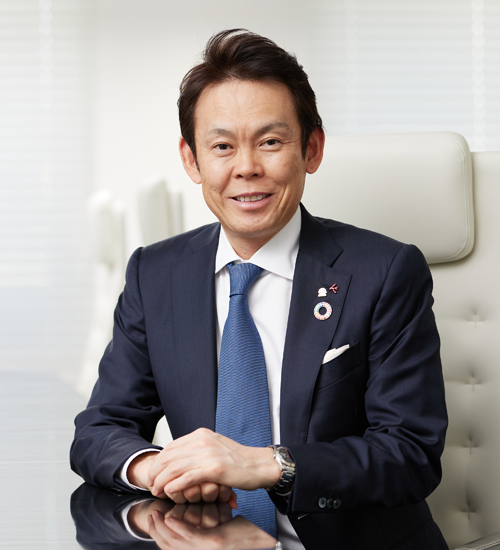 We would like to express our sincere gratitude for your continued support.
Here, we will report on recent conditions and future plans for Earth Corporation.

In 2021, we saw solid performance throughout the year, due not only to the results of earnings structure reforms undertaken up to now, but also continuing robust performance in insecticides and bath products, effectively capturing continuing demand that has arisen from changes in lifestyle patterns amid the coronavirus pandemic. Other areas, including oral care products and pet products, have also grown into businesses that can demonstrate stable earnings potential. By systematically executing various initiatives in line with the strategies laid out in the medium-term business plan, entitled "Act For SMILE –COMPASS 2023–," we achieved our highest-ever levels of net income, with sales of more than 200 billion yen and operating income of 10 billion yen. I would like to express my heartfelt gratitude to all of our shareholders and investors for their support.

Recently, increasing raw material costs have caused a decline in earnings. These rapid increases have impacted not only food products and daily sundries, but a wide range of other industries as well. The Earth Group will monitor trends in various industries, and investigate a variety of measures, including in-house activities, so that we can respond quickly.

The most important strategy in the medium-term business plan is to actively promote overseas business, mainly in terms of expanding the earnings base in ASEAN countries. These countries have warm temperatures throughout the year, making this an area where we can leverage expertise in the Earth Group's core businesses. Furthermore, these markets have outstanding growth potential, so we have been rolling out business in stages, in Thailand, Vietnam, Myanmar, Malaysia, and the Philippines. We have put in place a structure to enable increased sales in the future, so starting from 2022, we plan to further accelerate efforts to capture customer support in the ASEAN region.

We are also promoting initiatives to build a sustainable society. The Earth Group's corporate mission is to be an integral part of customers' lives, resolving the problems faced by customers and the issues faced by society as a whole, and to see that our business contributes directly to creating social value. We recently published our Basic Sustainability Policy along with material issues, and by inventorying and clarifying activities that the Earth Group has conducted up to now, we will tie these into the Group's contributions to SDGs, actively promoting initiatives throughout the Group as a whole. Moving forward, while strengthening the foundations for stable earnings and the creation of social value, we will continue to push ahead in preparation for the next stage of growth.

Our "earning power" is increasing, and our financial base is firmly established. We will actively invest in fields that contribute to the Group's growth, maintaining a balance between growth and distribution, and tie this into increased corporate value. We will continue to manage corporate operations with an emphasis on ensuring a "sense of security" for shareholders in the long-term, and we ask that you continue to place your trust in the Earth Group.


Katsunori Kawabata
President & Representative Director
March, 2022