Message from the President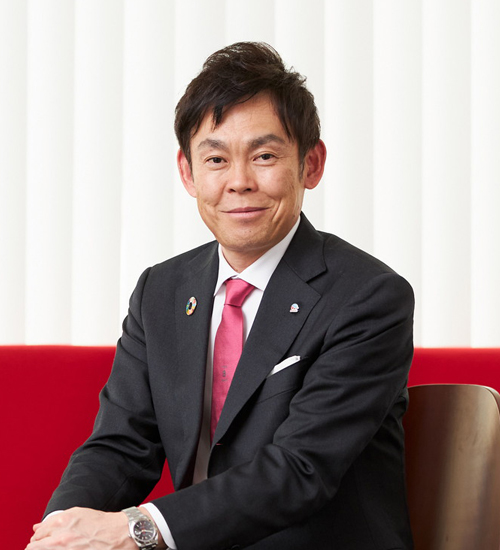 Thank you for your continued courtesy to Earth Corporation.
I would like to take this opportunity to report on the Company's recent initiatives and future policies.

FY 2018 was characterized by record-breaking heat waves in Japan, as well as natural disasters: torrential rains, floods, and earthquakes. These conditions caused the domestic "mushi care" (insect control) products market, our mainstay, to shrink which affected Group performance significantly. Furthermore, we proactively recruited personnel to enhance management and reinforce overseas business, incurred higher marketing expenses to cultivate our brands, and invested aggressively in other growth-oriented initiatives.
Consequently, the Group posted its first consolidated net loss since going public. I offer my deepest apologies for any concerns these results may have caused our shareholders and investors.
Given this performance, we will make an unprecedented effort to eliminate unnecessary costs, beginning at the budgeting stage. At the same time, we will make the investments necessary to achieve future growth. In this way, we will revamp the Earth Group's management from the ground up.


Developing our overseas business is a priority management issue. To succeed in the Asian market, we will strive to erase the boundaries separating individual subsidiaries, as well as those dividing domestic and overseas operations. Through enhanced governance and synergies, we will take on the challenge of transforming the Earth Group from Japan's leading manufacturer of "mushi care" (insect control) products into an Asian leader.

Our corporate philosophy states that "We act to live in harmony with the Earth." In keeping with this philosophy, through our products and services we aim to foster healthy and convenient living environments for our customers.
As an official partner of the Tokyo 2020 Olympic and Paralympic Games, we have developed the slogan "The summer of 2020 will also be protected by Earth Corporation." In addition to contributing to the success of the games, with our new slogan we aim to build value of our name "Earth" as Japan's top "mushi care" (insect control) products brand by emphasizing to customers visiting Japan from all over the world.

In keeping with the changing times and society's requirements, we will actively promote corporate social responsibility (CSR) initiatives that emphasize the environment, society, and governance (ESG). As one such measure, we promoted diversity among the people responsible for management monitoring and supervision by appointing a non-Japanese outside director and a female Audit & Supervisory Board member at our general meeting of shareholders in March 2019. By taking into earnest consideration the opinions of outside members, we aim to enhance the value of the Earth Group on both the financial and non-financial fronts.
Among the CSR activities we conduct as part of our business, as an individual company we promote measures to prevent infectious disease by fostering awareness about the use of "mushi care" insect control products. We also contribute to society through activities that include the logistics industry. Specifically, we are working to reduce the volume of waste by decreasing the number of product returns.

We expect to award shareholders a dividend of JPY100 per share for fiscal 2019. Our policy on the distribution of profits is based on a dividend-to-equity (DOE) ratio of 5%. Accordingly, we will endeavor to enhance operating performance to assure stable ongoing dividends.
We ask our stakeholders for your continued long-term support as we strive to achieve high levels of growth.
President & Representative Director
Katsunori Kawabata